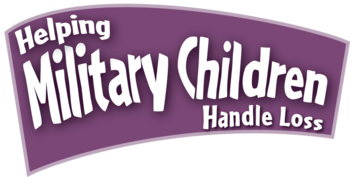 The Challenge
Losing a parent is the most difficult experience a child can ever have. On top of losing one of their parents, military children are oftentimes forced to move away from their military communities and lose those support systems too.

Over 6,000 US service members have been killed since 9/11. In addition, a total of 23 veterans and service members commit suicide each day. About 35.9% of service members were married with an average of 2 children.

How We Help

The

Helping Military Children Handle Loss Program

gives children ages six and up the tools and strategies to understand the emotions that they're experiencing and not only cope with the loss but also thrive and find a purpose in the aftermath of war. It also serves to make sure that they know they're not alone in this difficult time so that they both feel connected and supported.

The Helping Military Children Handle Loss Program Includes: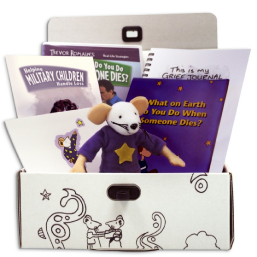 A Memory Box full of resiliency building strategies: access to the Parents Choice Gold award-winning animated movie, What on Earth Do You Do When Someone Dies?, which uses gentle humor, original music, and a compassionate storyline to explain loss to children, a journal to express their feelings, a family guidebook for parents, the award winning book, "What On Earth Do You Do When Someone Dies?", and a plush mouse to provide comfort and companionship. 
Follow-up support every 45 days for a year following the delivery of the kit: Video on how to most effectively utilize the kit components, survey for collecting data on our impact, activity pages, and other recommended resources. 
Access to our Comfort Crew Academy, a virtual learning and resiliency platform for military kids. https://academy.comfortcrew.org
Want To Share This Program?


Key Metrics
-Over 6 Thousand: Active Duty Members that have died in war since 9/11
-23: Active Duty and Veteran Suicides a Day
-10 Thousand: Children Served
The overwhelming majority of survey participants indicated that the Memory Box was helpful (80) and that they would recommend CCMK to a friend or family member (80%).
Total Amount Needed Annually: $278,686.44

Cuzzie Giving Meter
Check in to see where we are with meeting our goals in helping children who have lost loved ones!

| | | | |
| --- | --- | --- | --- |
| Fundraising for mass production of kits Development |   | |   |