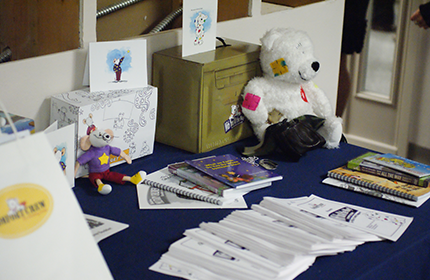 Military families experience many unique and challenging situations. The Comfort Crew was created to make sure that military families and their kids have the best resources available to help them through the tough situations of deployment, reintegration, reintegrating with an injury, losing a parent in war, and other unique challenges that the community faces.

What Are The Comfort Crew Resources?
The Comfort Crew Programs are provided to military families completely free of charge, and combine customized in-person live experiences, animated DVD's, and guided journals to open kids up to talking about the "tough stuff." These unique edutainment experiences allow us to talk about serious subjects in a way that is accessible to children. All Comfort Crew Kits are designed to support children ages 6-12.


Our Bringing Families Back Together program is designed to work on both the deployment and reintegration experience by giving children and families the tools to deal with this challenging situation.

Resources:
With You All the Way! Deployment Kit
Together Again! Reintegration Kit


The Fallen Heroes program gives children the tools and strategies to understand the emotions that they're experiencing and not only cope with the loss, but also thrive and find a purpose in the aftermath of war. It also serves to make sure that they know they're not alone in this difficult time so that they both feel connected and supported.

Resources:
Memory Box


Military children have a difficult time processing the experience of a parent coming home wounded and don't know how to communicate these feelings. Our Wounded Warrior resources help military kids and their families pave the way to building quality, thriving, family support systems.

Resources:
Taking Care of You! Support for Kids of Injured Heroes


The vision of the Never Alone Network is to create in-person live experiences that serve to connect and support military kids. With it, we will build peer to peer support systems that remain intact even when the military kids are displaced and forced to move to a new location.

Resources:


How Does It Work?
Simply fill out the form to the right and indicate the resources you'd like to request either for your family or a family you know. We are able to ship out a limited number of Comfort Kits each week. You will be placed on the waitlist until we work our way down to your name.

Additional Resources Available to Young Children

REQUEST FORM

We are currently able to ship a limited number of Comfort Kits out at this time and appreciate your patience. Submitting this form will place you on a waitlist and we will continue to make our way down the list. Thank you!